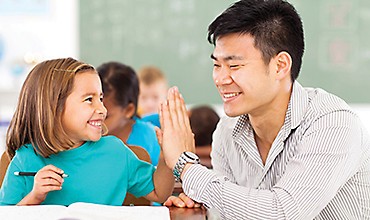 A common problem within the United States has been a lack of positive emotional relationships between teachers and students, which is one of the reasons many students fail to complete high school or to continue after graduation for higher education in college. Dead Poet's Society is a movie, which explores the benefits and detriments of this type of relationship, but ultimately, the themes within Dead Poet's Society are not effectively explored due to the dramatic nature of the film.
A teacher's contribution in molding students is undeniable. They are some of the first examples of how an adult should act aside from the student's family, and often, "teachers spend more time with students than their parents do" (Strauss).  This time is spent during an individual's most formative years, when people establish creative autonomy and free thought and morality etc, but if there is no emotional connection between students and teachers, what motivates students to learn and apply themselves? Over time, teachers begin to represent all things boring and drab within student's lives. They learn, not because they want to, but because they are required to, and a barrier similar to boss and employee builds between teachers and students. In Dead Poet's Society, John Keating overcomes the barriers between himself and his students by teaching them about thinking for themselves specifically in the scene where he tells them to rip out pages of their textbook. This appeals to his student's inherent rebellious nature at their age and places himself on a different level from other teachers, breaking through the "teacher-student professionalism barrier", but this barrier is broken somewhat too easily.
This is perhaps more of a two part introduction? Need advice on how to present analysis and explanation of the issue then analysis and explanation of how the movie presents and solves (or fails to solve) the issue without making paragraphs too convoluted with added research etc. I'll read the example researched argument several times I suppose.